Metal honeycomb substrate catalyst is an automobile spare parts, automobile and motorcycle structures and brazing processing, etc. With the characters of thin cell wall, big specific surface area, high compressive strength, low pressure drop and low bulk density, honeycomb metal substrate can be used as catalyst carrier. Series of honeycomb metal catalyst carrier are made from the material of ss304, ss316 etc through the process of extrusion. Specification for honeycomb metal catalyst carrier is 100-400 pores or cells per square inch.
Honeycomb metal substrate usually carries noble metal catalyst, e. G. Platinum, rhodium or palladium to clean waste gas in industries, e. G. It can be formed the catalytic converter to purify tail gas applied in automobile industry. When tail gas pass through catalytic converter, catalyst can enhance activities of CO, NOx and HC inside tail gas, converting them into CO2, H2O, N2, and O2 through selective oxidation-reduction reaction.
Applications:
For light duty petrol vehicls exhaust purification, through the precious metals and earth catalyst, the exhaust HC. CO. And NOx and other harmful components into harmful N2. CO2. And H2O in order to meet emission standard of EuroII, EuroIII, EuroIV etc.
Features:
*Low thermal expansion
*High surface area
*Long-term durability performance
*Low pressure drop
*Good thermal shock resistance
*Combined with the EGR systems to help different vehicles to satisfy emission standard
*Low light-off temperature
*Excellent adhesion between wash-coat and susbstrate with netty structure
| | | | |
| --- | --- | --- | --- |
| Light-off temperature | Durability | Conversion efficiency | Coating desquamate rate |
| T50(CO)≤230 T50(HC)≤260 T50(NOX)≤250 | 1000KM | CO≥85% HC≥80% CO≥85% | ≤7% |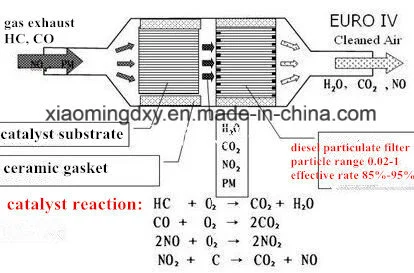 | | | | | | |
| --- | --- | --- | --- | --- | --- |
| Shape | Material | Diameter | Length | Channel density(cpsi) | Precious metal |
| Cylinder | Fe/Cr/Al | 20 | 20 | 100/200 | Pd/Pt/Rh |
| Cylinder | Fe/Cr/Al | 20 | 80 | 100/200 | Pd/Pt/Rh |
| Cylinder | Fe/Cr/Al | 30 | 100 | 100/200 | Pd/Pt/Rh |
| Cylinder | Fe/Cr/Al | 28 | 60 | 100/200 | Pd/Pt/Rh |
| Cylinder | Fe/Cr/Al | 28 | 100 | 100/200 | Pd/Pt/Rh |
| Cylinder | Fe/Cr/Al | 35 | 30 | 100/200 | Pd/Pt/Rh |
| Cylinder | Fe/Cr/Al | 35 | 40 | 100/200 | Pd/Pt/Rh |
| Cylinder | Fe/Cr/Al | 35 | 60 | 100/200 | Pd/Pt/Rh |
| Cylinder | Fe/Cr/Al | 35 | 70 | 100/200 | Pd/Pt/Rh |
| Cylinder | Fe/Cr/Al | 35 | 100 | 100/200 | Pd/Pt/Rh |
| Cylinder | Fe/Cr/Al | 38 | 100 | 100/200 | Pd/Pt/Rh |
| Cylinder | Fe/Cr/Al | 42 | 100 | 100/200 | Pd/Pt/Rh |
| Cylinder | Fe/Cr/Al | 48.6 | 70 | 100/200/300 | Pd/Pt/Rh |
| Cylinder | Fe/Cr/Al | 63 | 50 | 100/200/300/400 | Pd/Pt/Rh |
| Cylinder | Fe/Cr/Al | 101.6 | 100 | 400 | Pd/Pt/Rh |